About me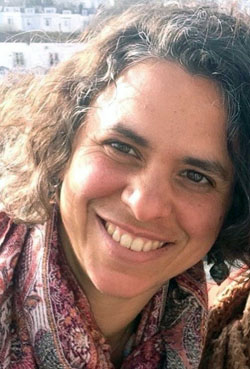 I am a BACP registered counsellor, offering integrative transpersonal counselling in Brighton.
I trained as a psychotherapeutic counsellor at Re-Vision in London, and have worked in a variety of therapeutic roles in the mental health sector for the past 15 years.
My experience includes supporting people through a wide spectrum of human suffering, including intense and overwhelming mental and emotional difficulties and trauma. I currently provide bereavement counselling at a local hospice, as well as working with young people with mental health problems at University.
I have a particular interest in working with issues of difference, diversity and social injustice. I also care deeply for the environment and have experience helping people who are struggling to process the climate and biodiversity crisis, or who are suffering from burn-out linked to their environmental activism.
My approach
My approach to counselling is:
Compassionate. First and foremost I will listen to you in a non-judgemental way and make a welcoming space for whatever is troubling you to show itself.
Integrative, which means that I draw on many different approaches in my work, depending on who I am working with and what their needs are at any given time. Some examples include: attachment, psychodynamic, narrative, gestalt, embodiment, self/co-regulation and trauma, archetypes, dream and image-work, phenomenological, existential, spiritual, and ecological.
Transpersonal, which means that I am interested in aspects of being that go beyond the personal into social, ecological, archetypal and spiritual dimensions.
Underpinned by a soulful perspective. This means therapy is about supporting your human search for destiny and meaning, as much as it is about helping you to heal from the wounds of the past. I will work with you to find gold in the darkest and most difficult aspects of your life, bringing a deeper sense of meaningfulness, connectedness and enchantment to your days.
Highly relational, meaning I do not hide behind a professional mask but meet you in the most ordinary way, as a fellow human being. Through exploring the twists and turns our relationship openly together, we catch glimpses of the ways in which you tend to relate in the world.
Sometimes it can be hard to find words, so our conversation in therapy does not always need to be verbal, linear, or direct. Through contact with nature, and through movement, imagination and our innate creativity, we access a wilder, non-rational level of knowledge and insight. Through exploring dream images, stories, poetry and myths, we learn to listen to the depths of wisdom within each of us.
Location and fee
I practice from the Brighton Counselling Rooms, close to Elm Grove and Kemptown.
Brighton Counselling Rooms
46 Down Terrace
Brighton
BN2 9ZH
I can also provide counselling sessions remotely using Skype or Zoom, or in outdoor settings. Please enquire for further details.
My fee is £60 for a 50 minute session.
Contact me
To arrange an initial session, please get in touch by email or by phone on 07890 108227.